Lead(IV) oxide in the rutile can form vacancy defects. This occurs when an oxygen atom in the structure leaves. This results in a vacancy being left behind. As well as this, similar to Schottky defects in the fluorite and rock salt strutures, the vacancy defects results in a reduction in the density of the struture. Due to electrostatic repulsions, there is no balancing counterion, the lead ions move apart increasing the volume. This leaves behind a vacancy represented by the red triangle.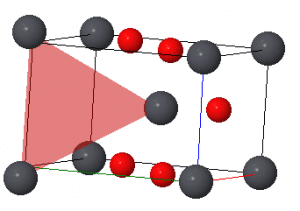 The vacancy produced is important for the properties of lead(IV) Oxide. The vacancy allows ions to move in making it an ion conducto as well as acting as 'holes' for semiconductors. Lead(IV) oxide is most commonly used in lead acid batteries for these reasons.
To return to the ionic conductivity home page click here.